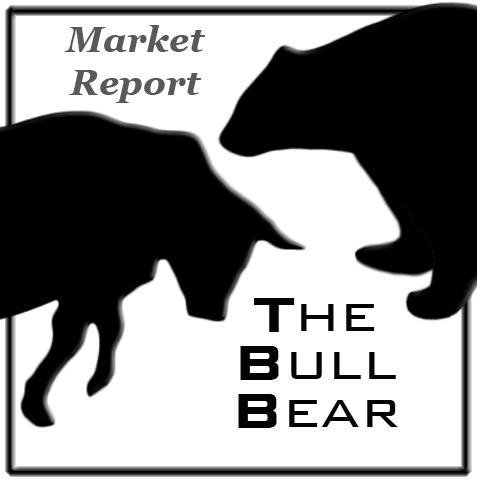 THE BULLBEAR MARKET REPORT
September 26, 2009
Markets are at an important inflection point and the inflation vs. deflation vs. growth debate may be resolved soon.





SUMMARY

All of the markets that I follow have reached important decision points. Collectively the direction of the moves coming out of the present configuration will describe market and economic conditions going forward. There does seem to be growing evidence that the deflationist scenario may ultimately hold sway. However, arguments for deflation, inflation and growth all find substantiation in the current market environment. At this time traders are best advised to pare back their market exposure or go to cash and wait for the markets to make their intentions known. Commodities do appear to be close to a decisive bearish move and may represent a shorting opportunity. If that is the case, can a bullish move in the US dollar be far behind?


COMPARATIVE ANALYSIS

Debate on the future direction of world markets and the global economy tends to be divided between inflationist and deflationist views with advocates of a growth scenario coming in a distant third. In general, a bearish consensus still holds sway even after a better than 50% rally in world equity markets. The bear arguments even tend to the apocalyptic with calls for a renewed financial and economic crisis still prevalent. At the same time, voices calling for 3-4% growth in the next quarter in the US and worldwide are also growing in number and volume. The gap between these opposing viewpoints is widening and creating a very interesting dynamic.
The Deflationist camp, the leading advocate of which is Robert Prechter, argue that debt destruction is the primary economic force at this time. In spite of massive inflationary fiscal and monetary policy, credit is shrinking as debt and dollars are being retired in a spiral downward. A deflationary depression similar to the 1930's is the ultimate result of this process according to the advocates of this view. Reports of collapsing consumer credit, declining loan volumes, Asian ports choked with idle cargo ships and stagnating and now declining commodity prices tend to support this conclusion.
The Inflationists argue that the history of Keynsian fiscal and monetary policy capped by the current unprecedented inflationary policy is leading to another asset price bubble unfounded in real economic growth and the result will be another violent financial system collapse followed by a hyperinflationary depression or stagflationary recession as governments and central banks continue to pump liquidity into the system. In this scenario commodities, particularly gold and silver, will be the only asset classes to keep up with inflation and preserve wealth. The dollar would fall into a death spiral and ultimately be replaced by a new, potentially global, currency regime. Some feel that this could play out relatively soon and others that this would come about in 18-36 months. The recent breakout in gold and silver and the meteoric rise in equities tends to support this view. An leading proponent of this perspective might be Peter Schiff.
The proponents of Growth argue that the bull run in equities off the March 2009 bottom represents a secular bottom and that the rally is forecasting strong economic growth in the future. The sheer panic and rampant fear of economic Armageddon in March is the kind of sentiment that marks turning points. The Nasdaq 100 technology stocks have provided clear leadership and have broken out of a 9 year downtrend with authority. Predictions of 2-4% GDP growth in the coming quarter are becoming more common.
My perspective as a technical analyst and contrarian is this: rather than intellectually hypothesizing about future events within the parameters of an establshed viewpoint, we should listen to the message of the markets. That message may be mixed and unclear as it is now. And the fact of that lack of clarity may reflect a more complex dynamic than any of the proscribed schools of thought encompass individually.
Up until this point, the message of the rising market for equities must be interpreted as either a prediction of future strong economic recovery or another inflationary asset price bubble. When and if the trend fails we can then ask if the message the market is sending is now different. The only other clear and valid market message available at this time comes from the commodities markets. Commodities are in a bear market with a recent breakdown and a significant divergence from the SPX since June. We must interpret that message as either favoring the deflationary or growth scenarios. Obviously, if commodity prices are depressed or flat this implies a strengthening dollar and a recessionary economic outlook. Flat commodity prices may also be encompassed in a Goldilocks scenario in which GDP grows yet input prices remain steady as in the period from 1995-2000.
I'll expand on these themes as we look at the charts.
TECHNICAL ANALYSIS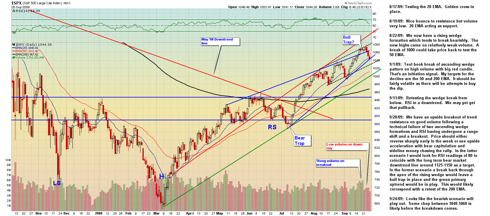 The S&P 500 (SPX) is in a clear bull trend. Recently it appears to have produced a bull trap (failed breakout) which may mark a top. There is no way at this time to know what kind of a top this may be. It may be a short term pullback within an ongoing uptrend or it may be the beginning of something more significant. In any case I think that there is sufficient evidence that a period of consolidation or decline may be upon us and traders are best waiting for the market to set up for its next big primary move. After a run this strong it is likely that a lot of back and forth action will ensue as either a top in put in place or a consolidation is produced. I think an immediate, strong move in either direction is not likely. A setup may take several weeks to several months to emerge. A break or support at the green primary uptrend would be a major market event. The recent breakdown in commodities may be a precursor to the failure of the equities markets or else a significant divergence.